My sweet friend,
Lianna
, had this great reminder today...we need to be constantly lifting each other up! I have been so blessed by all the prayers given up for me, and have also been blessed to be able to lift my friends up in prayer!! Won't you join us?
Let's take the time today to pray for one another. Take a minute to send someone an email, give someone a call, send someone a text message, or leave someone a comment on their blog...just to let him/her know that you are praying for them today. It will only take a minute and can mean the world to someone.
Afterall,
"...if two of you agree on earth concerning anything that they ask, it will be done for them by My Father in Heaven. For where two or three are gathered together in My name, I am there in the midst of them."~Matthew 18:19-20.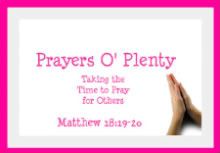 Copy this button for your blog, and list a few people that you are praying for...AND more importantly, let them know you are praying for them.
Today I'm praying for...
My wonderful friend Andrea (who is dealing with some health complications)
Kate McRae
(a beautiful 5 year old facing a malignant tumor in her brain)
Sweet little
Gaines
and his family (a preemie being transferred to a NICU closer to home)
My friend
Tena
's dad, who is battling cancer
"And whatever things you ask in prayer, believing; you will receive."~Matthew 21:22